BOILER ROOMS AND STEAM SYSTEMS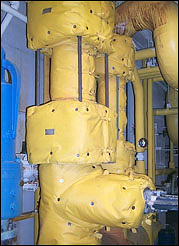 In today's energy conscious environment, removable insulation is becoming increasingly common in boiler rooms. Additionally, current gas prices make insulating all high-pressure steam equipment a lucrative investment offering payback periods of 6-18 months.
ThermoHelp Canada Inc. offers free energy surveys of boiler rooms and steam distribution systems with a detailed breakdown of the expected savings and payback period for each exposed item.
The following steam equipment is often not insulated at all, and typically benefits greatly from removable/reusable insulation covers:
– Stop Check Valves
– Orifice Flanges
– Steam Header Valves and Flanges
– PRVs
– PSVs
– Turbines
– Steam Separators
– Boiler Drums
DISTRICT HEATING/COOLING SYSTEMS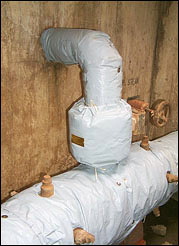 Removable insulation covers help to reduce energy losses along extended distribution lines, in applications such as:
– Steam Distribution Manholes
– Expansion Joints
– Steam Meters
HVAC BUILDING SYSTEMS
Some types of low pressure steam and hot water equipment are often insulated with removable/reusable covers to reduce the temperature in building mechanical rooms and for personnel safety reasons. Cold service removable covers are an obvious choice for chilled water equipment requiring frequent maintenance.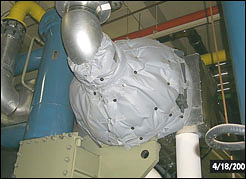 Hot Service
– Absorption Chiller Heads
– Steam Pumps
– Hot Water Pumps
– Plate Heat Exchangers
– Tube Heat Exchangers
– Water Heaters
– Humidifiers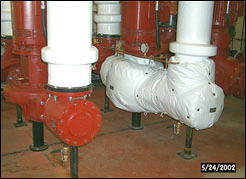 Cold Service
– Chiller Heads
– Chilled Water Pumps
– City Water Backflow Valves
– City Water Meters
POWER GENERATION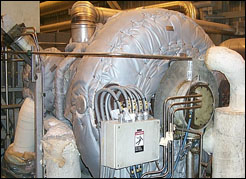 Removable insulation systems for power generating steam and gas turbines are typically difficult to design due to the equipment's size, complexity of shape, multi-layer construction, and high operating temperature. We have successfully designed and implemented removable/reusable insulation systems for turbines up to 350MW.
2-layer removable insulation system for the 32MW ABB steam turbine (shown on the picture) was designed, supplied and installed within the two-week time window available during a scheduled shutdown.
CHEMICAL AND PETROCHEMICAL INDUSTRIES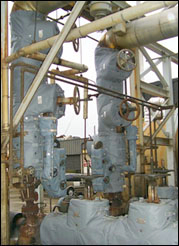 The chemical industry is a heavy user of removable insulation covers with a variety of services ranging from freeze-protection to high temperature hot oil. Our covers can be designed for service in the presence of aggressive chemicals such as acids and alkalies.
Removable insulation covers allow access to equipment for maintenance and inspection without destroying the insulation. Most often they are used with:
– Pumps
– Valves
– Heat Exchangers
– Reactors & Vessels
– Manways
– Actuators
INSTRUMENTS AND GAUGES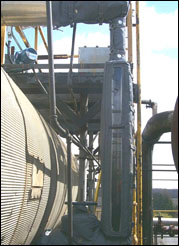 Removable insulation enclosures for instruments and gauges protect the equipment from freezing and help keep process parameters unchanged. We design removable enclosures for instruments and gauges of all makes, configurations and mounting styles. A transparent window made of clear Teflon film or tempered glass allows visual access.
Instrument and gauge applications include:
– DP cells/Transmitters
– Sight glasses
– Magnetic level indicator
– Mass flowmeters
ENGINE EXHAUSTS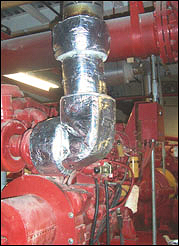 Removable insulation covers for exhaust manifolds of diesel & gas engines provide personnel protection and reduce the temperature in an engine compartment. Exhaust covers are available for stationary engines, emergency generators, marine diesel engines, as well as truck and heavy machinery exhaust piping.
PLASTICS INDUSTRY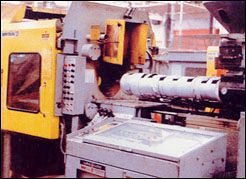 Common applications of removable insulation covers in the plastics industry include:
– Injection molding barrels
– Hoppers and dryers
– Pre-Heaters
– Extrusion barrels and blowmolds
– Keeping dies on standby
– Melt pipes and adapters
– Manifolds
– Dryer hoses
– Hot oil lines (Hot oil service)
– Chilled water lines (Cold service)
– Acoustical covers for fans and vacuum pumps (acoustical service)
Benefits of removable covers in plastics industry environment:
– 30-45% Energy savings – quick payback
– Uniform heating
– Fast startups
– Personnel protection (thermal and electrical)
– Cooler working environment, reduced air conditioning costs
ThermoHelp Canada Inc. covers for the plastics industry come with the following convenient features:
– Quick, easy, tool-free installation by one person
– Only non-conductive materials are used to prevent short-circuiting
– Oil and water resistant outer surface